GUSTARD DAC-R26
Discrete R2R DAC I2S Bluetooth LAN AirPlay Roon DLNA 32bit 768kHz DSD512 Black MQA

Gustard unveils with its DAC-R26 an absolutely exceptional digital-to-analog converter. This one uses an R2R architecture using discrete components of very high quality and perfectly optimized to offer exceptional sound performances. Practical, it benefits in addition to complete connectivity, of a Bluetooth and network connectivity, allowing to control the reading of your music at distance. The whole is integrated in a sublime modern and luxurious chassis of the most beautiful effect.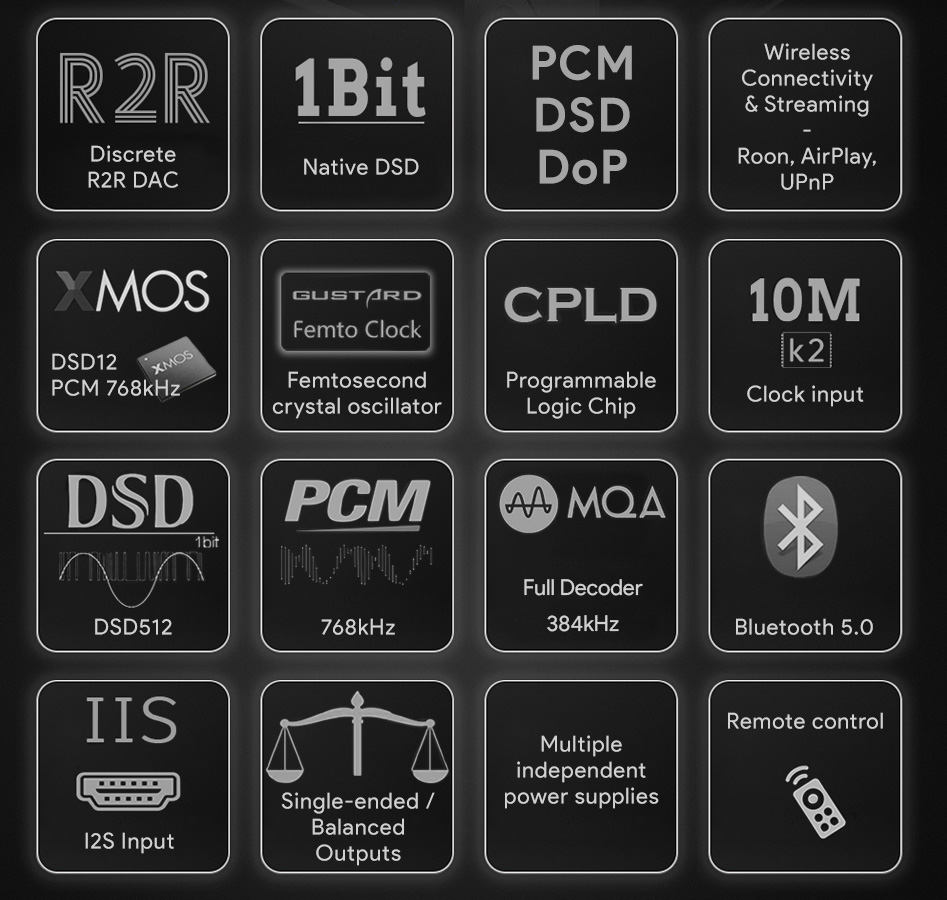 Discrete R2R
The R2R DAC used in the Gustard DAC-R26 relies on high precision resistor switching to perform the digital to analog conversion. Compared to a Delta-Sigma DAC, the R2R offers a more pure and natural sound. A more expensive and demanding design, but one that offers incomparable performance.
Synchronous clock technology
The principle of this technology is that the source clock is used only as a frequency reference. The synchronous signal provided by the ultra-low noise K2 module is then used to replace the source clock. The source clock is therefore abandoned and the DAC uses only the extremely precise femtosecond clock and the conversion is therefore not affected by the source clock. This architecture thus allows a significant reduction in jitter.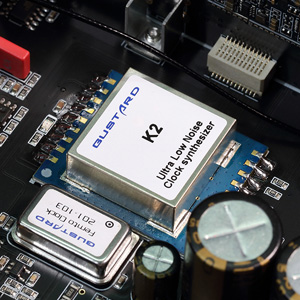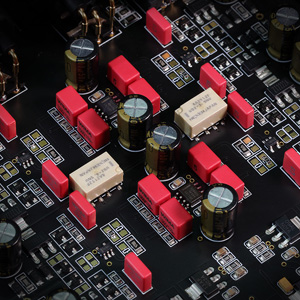 LPF
The Gustard DAC-R26's LPF low-pass circuit parameters are finely optimized. The use of discrete components rather than integrated circuits allows independent adjustment of each element to achieve the best operating conditions.
Network connectivity
The DAC-26 benefits from a network connectivity thanks to its RJ45 port. It supports UPnP, AirPlay and Roon Bridge protocols. It will allow you to enjoy your music stored on your network devices.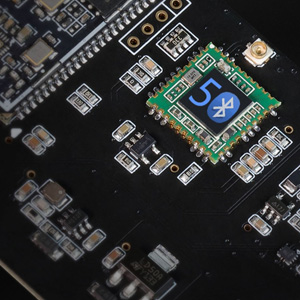 Bluetooth 5.0
In addition to its network connectivity, the DAC-26 is also equipped with a Bluetooth 5.0 receiver chip. This one offers the possibility of controlling the reading of your music remotely, directly from your smartphone.
XMOS USB Interface
Another high quality component embedded in the DAC-26, its USB XMOS interface. This one allows him, via its USB input, to decode high resolution audio streams, until the PCM 32bit 768kHz and DSD512.