CEN.GRAND 9I-92SA III GOLDEN THRUSH
DAC 2x ES9038Pro Headphone Amplifier Préamplifier 32bit 384kHz DSD512

The 9I-92SA III from CEN.GRAND, known as the "Golden Trush", is a versatile device that performs the functions of DAC, headphone amplifier and pre-amplifier. As a high-end product, it incorporates many high-quality features, such as two ESS ES9038PRO DAC chips that can operate in parallel on 8 channels, and an XU208 + FPGA USB interface using an isolation system to suppress noise from any source.
The CEN.GRAND 9I-92SA III is an excellent, high-performance and functional headphone amplifier, with four output modes to suit all types of headphones. The Golden Trush delivers clear, rich and detailed sound reproduction.
Key points :
An XU208 USB interface operating with a FGPA digital processor module enables playback of native DSD up to DSD512 and PCM up to 32bit 384KHz. The USB isolation system also isolates noise from the source, such as your computer.
Two ESS ES9038Pro DAC chips that can operate in parallel on 8 channels offer excellent decoding performance. An AK4118 interface accompanies the digital inputs (AES/EBU, Coaxial and Toslink), enabling them to support up to PCM 24bit 192KHz and DSD64 (DoP).
The headphone amplifier function features a single-ended Jack 6.35mm output and a balanced XLR 4-pin output. It also features 4 output modes: Normal, BTL, Active Ground and Parallel.
The preamplifier function integrates discrete components and features RCA and XLR stereo inputs and outputs.
The 9I-92SA III features a display, infrared remote control and volume control.
9I-92SA III GOLDEN TRUSH structure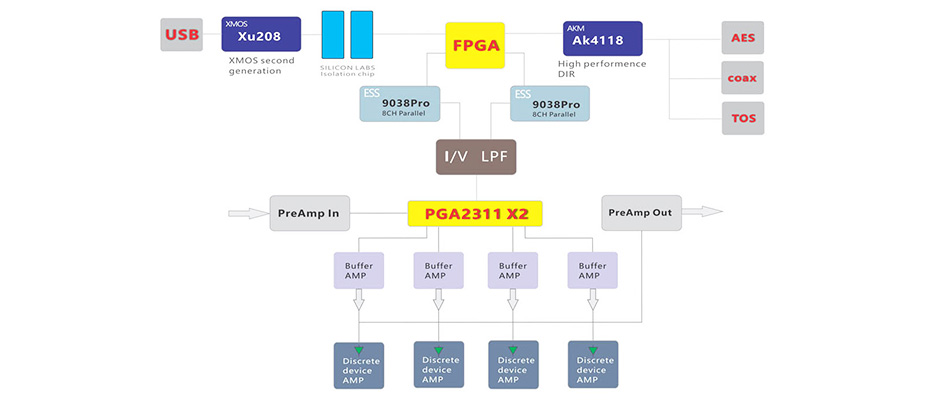 9I-92SA III headphone amplifier function: four output modes
Four output modes let you select the one that best suits your listening preferences or the characteristics of your headphones. Normal mode is for low-impedance headphones and earphones, and BTL mode for high-impedance headphones. Parallel mode is effective for medium-impedance headphones, increasing driving force but not gain. Finally, Active Ground mode, which brings a stronger sense of harmonics, is particularly suited to listening to vocals or stringed instruments, thanks to the simulation of a "virtual GND". This last mode offers a softer, warmer listening experience.
The technology used in the headphone amplification circuit is fairly simple, but the extremely fine-tuned settings resulting from CEN.GRAND's know-how and experience deliver a clear, delicate sound balance. CEN.GRAND's aim here is to provide a headphone listening experience worthy of a Hifi system.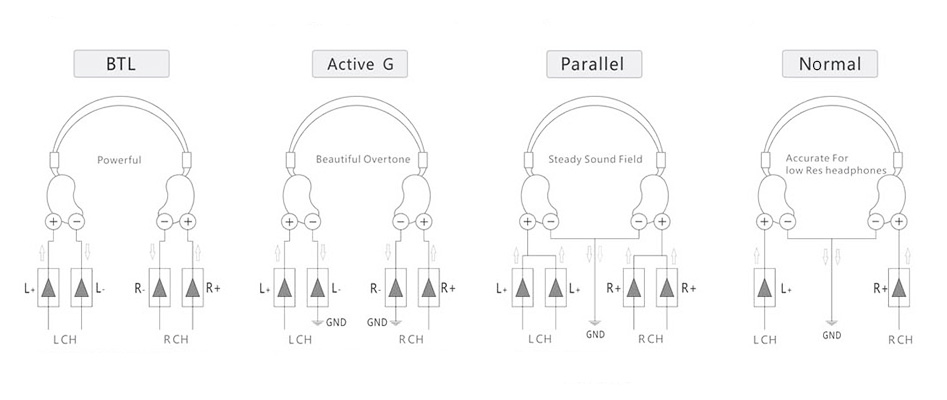 Dual DAC chips ES9038Pro
CEN.GRAND's Golden Trush features two ES9038Pro DAC chips operating in parallel on 8 channels. These not only support high-resolution files, but also deliver superb sound quality.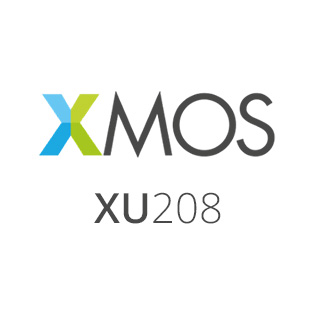 A second-generation XMOS XU208 USB interface and a high-performance FGPA
Within your source device, such as a computer, there may be numerous decoupled power supplies generating noise that is harmful to analog circuits. That's why CEN.GRAND has equipped the 9I-92SA III with USB interface isolation technology to block any noise coming from your source device. Isolating this noise significantly improves the purity of the sound signal. On the FGPA side, the code manages data isolation, clock distribution and DoP format decoding.
High-performance OPA and volume control
Equipped with an LPF (low-pass filter) and a high-performance AOP2604, the OPA amplifier circuit delivers a clean audio signal. The volume control chip, a PGA2311, is MCU-controlled. The volume range is -70db to 0db.
9I-90SA III rear panel